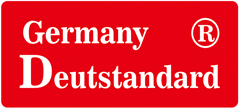 Germany Deutstandard OEM factory is located in guangzhou ,China .
GUANGZHOU NEW POWER CATERING EQUIPMENT MANUFACTURING CO.,LTD.It is an enterprise that focusing on the research, development and manufacturing catering equipment.Since 2006,we have focused on the research and development of German kitchen machinery,and have constantly explored the craft and design style with European businessmen.The performance and appearance of products are welcomed by overseas customers.
We have over ten years experience of OEM for European brand, professional R&D team, strong digital control machine tools for production, and a young sales team for good service.
Germany Deutstandardhas more than 2000 kinds of products: German Waffle, Dutch Waffle, Belgian Waffle, Pizza, Floating Cheese Egg Tart, Spanish Churros Machine, Japanese ice cream taiyali machine , American Automatic donut machine, Hong Kong Egg bubble waffle machine, Hot Jam Pump,, Canadian Fish Cake Machine, Muffin Hot Dog Stick Waffle Machine, Indian Crepe Machine, Fish Ball machine, Frying Oven, Ice Maker, TurkishBarbecue Oven, Chocolate Fountain Machine, Chocolate Melting Machine, Smokeless Baking Oven, Food Warmer,food showcase, German Grill, Chimney cake oven , Ice Cream Machine, and supporting equipment and tools.
The company is located inguangzhou ,China which is near baiyun airport (Taihe Town, Baiyun District, Guangzhou City, Guangdong Province.).Welcome friends from domestic and abroad to visit our company.Absorb new ideas, strictly control the quality, express ideas with industrial products, provide new power to new consumption, new change!
Germany Deutstandard, one of your best choices for buying snack machine.
You think it ,Germany Deutstandard make it .